The Art of Listening – A collection of paintings in response to music and landscape by Angie Spencer
The exhibition runs from 13th October through to and including 21st November 2021. Opening times are 11-4pm Wednesdays through Sundays. Closed Mondays and Tuesdays.
'My method for responding to music is to listen to a piece and wait for colours, moods and images to arise in my artistic imagination and I draw on the information I have gathered in sketches during plein air expeditions. 
The act of seeing and drawing has become the usual technical starting point for my paintings. There is something magical in making a drawing in situ – travelling to the site often by bike or on foot. Even if it the drawing is not completely accurate, my intention starts to becomes manifest, and I take ownership of what I am seeing. This process completely changes the quality of the finished painting (which I work up in the studio) in a way that working from a photograph never can. In this respect I look back to the methods of the great Romantic painters, Constable, Turner and Delacroix.
When I am at the painting stage I have a discipline that I only apply paint if I am actually listening to the piece in question. It is important for me to stay immersed in the energy of the music – it is as though it has a particular frequency which is not my own but that of the composer and I don't want to impose extraneous ideas on the finished work.'
Also included in this exhibition are some of Angie's smaller plein air oil paintings which inform her responses to music
Angie Spencer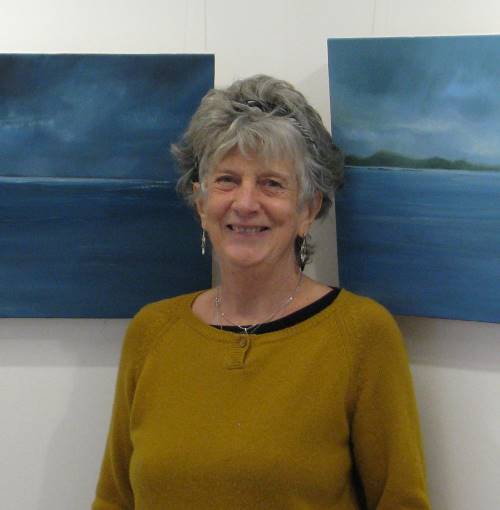 Angela Spencer (born 1959 in Scarborough, N. Yorkshire) lives and works in Stroud. She paints mainly in oils, but also enjoys making work using drawing techniques in charcoal, mixed media and graphite. Primarily interested in expressing the landscape, she would categorise her work as Contemporary Romantic Landscape.
Her other main love is classical music. She has played violin since the age of 10, and currently leads the Stroud Symphony Orchestra and plays in the Capriol Chamber Orchestra as well as in chamber groups. Music often informs her work, and many of her landscape pieces are direct responses to classical music – often pieces she is playing in the orchestra, or learning from the solo repertoire with her teacher. 
Angie has a BA (Hons) in Fine Art Printmaking from the University of Cheltenham (2004). Her work has been exhibited at Hadfield Fine Art and Little Buckland Gallery. In 2016 she was awarded an artist's residency at the Old Parcels Office in Scarborough, and in 2018 a residency at Cill Rialaig Arts Centre in Co. Kerry. 
Find out more about her work at www.angiespencer.co.uk  
Facebook Page: AngieSpencerPaintings                                Instagram : angiespencerpaintings
Warning: There are occasions when the main hall is closed for a performance or private event. In order to avoid any disappointment we recommend you check availability, especially if travelling any distance. Thank you