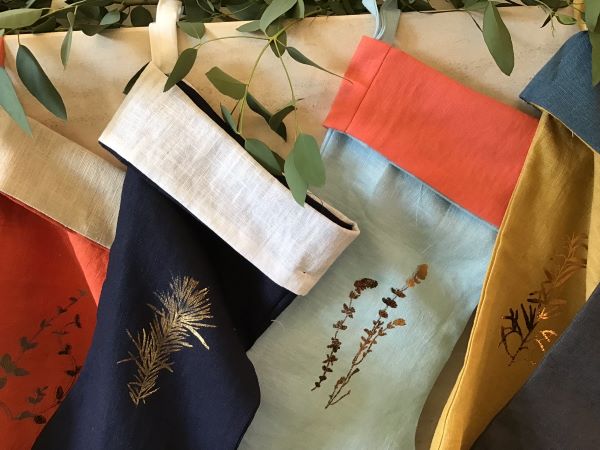 Our two day Christmas Craft Fair returns this December to the Goods Shed. With a wide range to choose from and all local crafts men and women, including artists, potters, glass workers, upcycled objects d'art, jewellery, beautiful needlework, soaps and candles and so much more
Crafts and Artists today include
Sally Brooks
Offering a unique range of Raku fired ceramics, including clocks, vases, and sculptures.
www.facebook.com/sallybrooksceramics
Coxwold Preserves
Run by Thorold and Vicky Cox selling their homemade jams using the fruit from their garden in Nailsworth. Over the years they have expanded their produce to now include homemade marmalades and chutneys with many different tasty flavours; all of which that go down a nice treat – especially the tasters.
Tara Jane Ceramics
Ceramic Artist and member of the Cotswold Craftsmen. Setting antique lace in porcelain clay to create delicate bowls, vases. tea lights lanterns and coasters – using a beautiful turquoise blue underglaze to bring out the finer details.
Tara will also be bringing along a range of functional garden sculptures – large and small bird baths as well as bee baths on brass rods in various shades of meadow green. www.tarajaneceramics.com
Nicholls and Gilbert Jewellers
Jewellery collections and individual pieces made in gold, platinum and silver. Designs combine shape, form and texture embellished with diamonds, precious stones and pearls.
Mary Rose Ceramics
Mary Rose makes ceramic art in her Forest of Dean studio. Many people will say it's "Alice in Wonderland" pottery but to Mary Rose it's just pottery, decorated with her bright colours and with little three dimensional attachments to the handles or rims.
Soapy Chameleon
Using a traditional cold-process method, these natural soaps are handmade in Britain, luxurious and full of goodness your skin will love!
Soapy Chameleon soaps are made with olive oil, coconut oil and other nourishing oils like avocado and castor. These oils are packed with vitamins, minerals, anti-oxidants and proteins which provide ridiculously good skin-pampering qualities. Each bar is scented with 100% pure essential oils providing wonderfully natural scents, along with their powerful therapeutic properties.
Valerie Dugan – Botanical Artist and Calligrapher
Valerie is an award winning calligrapher and botanical artist. Clients include The Royal Family, National Silver Collection and Diana Ross. Her paintings, accepted by Wisley and Kew, won a RHS Silver Medal.
www.cotswold-craftsmen.org/members/valerie-dugan-calligrapher…
DH Creations
Selection of small, felted items including some festive ideas
Hookshouse Pottery
Based just outside Tetbury, Christopher White produces creative, yet useful pieces designed to enhance your day, whether it be a tea cup, a pot to arrange in the garden or a simply a stunning vase
Clare Walsh
A designer and creator, inspired by plants, gardens and the countryside designing and hand printing  using silkscreens onto 100% natural linen. The linen is used to make a range of products including napkins, bags, tea towels, aprons and cushions.
Mackenzie Knitwear
Hand crafted knitwear for adults and children.  Hats and scarves made from poor wool and acrylics.  Also available will be a range of handmade festive table cloths and napkins.
March Hare Glass
Stained glass artist using ancient techniques,  including some lead work but the majority of her work are in the Tiffany style with copper foil and solder, which although not so ancient is still very satisfying.  It's possible to make smaller pieces that are affordable for everyone.  Her main inspiration is nature, and light, loving the forms of leaves and feathers. Maria says that "my very first piece was a celtic cross which I placed in an East facing window and every morning it makes me happy to see the light shining through it.".
Tim Blades Jeweller
Makes silver jewellery based on flowers and insects.  All of Tim's designs are carved in hard wax, under a microscope to then be caste in silver and finished by hand in his workshop.  Detail is then added using gold plate, semi-precious stones and coloured resin.
Especially at this time of year, his mistletoe designs are a particular favourite for many.
Artel Design
Beautiful selection of hand painted festive Christmas decorations, large and small letters and lampshades.  Also taking commissions to be delivered in time for Christmas
Ashley Wilks
Original paintings, prints and cards by local artist. Fun illustrative creations including hedgehogs, birds and teddy bears. Commission book open.
Yvonne Halton Ceramics
Taking inspiration from local scenes, animals and humorous situations, making pots that people will use but also make them smile.
Using Earthstone clay, some "slabbed" others thrown, the pots are altered and textures/handles added the next day. Painting the illustrations with brightly coloured underglazes,  they are then twice fired, using a clear shiny glaze and firing to 1160 degrees centigrade..
Cotswold Vintage
Makes beautiful and individual items including bags, storage and accessories from genuine vintage and designer label fabrics.
Riant Soleil Jewellery
Handmade Copper and Silver jewellery using a selection of Swarovski crystal and or semi previous stones together with wire and sheet metal to form individual pieces.
Evoke Artistry
"A little piece of history to hang on your wall" Unique and innovative Mixed Media Artwork which stylishly recycles discarded objects into new designs ensuring their story continues rather than ends. Many different mediums and techniques are explored including encaustic wax painting, mosaic and collage. Pottery shards, sea glass, shells, clay pipe fragments and metal detecting finds have been scavenged from local streams and beaches and sanitised before use. Paper is made using discarded books, paper scraps and any type of text ,  often adding dried organic matter, fibres and crushed shells. Vintage textiles are sometimes used in pictures using free motion stitching, embroidery, buttons and beads. Each picture created is a 'one off' and can provide an evocative and thought provoking conversation as to who? What? Where?
Saturday 2nd and Sunday 3rd December 2023
Open to the public 10.30 – 5.00pm
Free entry