All hail the return of The Good Shed Comedy Club! 
Settle into Autumn in the company of some of the finest, and funniest, stand-up comedians from the UK comedy circuit, featuring Chris Brooker, Sully O'Sullivan and the magical madness of El Baldhiniho!    
Do note that line ups are subject to change
A gifted performer, Chris Brooker has taken his unique mix of comedy and improvisation to stages all over the world. After a decade on the UK comedy circuit Chris has forged a fine reputation for himself as a stand-up comedian and compère. His versatility has seen him play to audiences of all sizes and backgrounds, winning them over with his infectious enthusiasm, swift wit and immense likeability. Dubbed comedy's ginger Viking by a promoter, he really is a larger than life character.
One of comedy's heavy hitters, Chris Brooker's infectious energy and enthusiasm sweeps through a room like an irresistible force. Chris' combination of hilarious, original material and inspired improvisation means that you will never see the same routine twice. Immensely likeable, there's no doubting his ability to win over any crowd and drag them along for the ride.
'Very funny, very quick… On the spot humour.' BBC
'The best act of the night, his quick wit silencing hecklers and getting plenty of laughs.' Manchester Evening News
'The revelation of the night. Spot on.' Now Toronto
Sully O'Sullivan is a seasoned international headliner who has performed all over the world. First stepping onto the stage in his native New Zealand, Sully rocketed to stardom making his TV debut just 7 months later in New Zealand's cult stand-up series Pulp Comedy on TV2, where he went on to appear in another three seasons.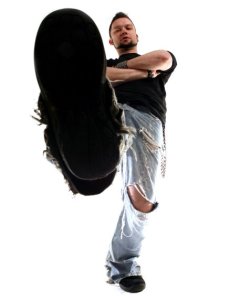 In 2005 Sully decided to spread his comedy wings and head to the sunny coasts of Great Britain. Over a decade later and he's now performed in almost every corner of the country including the Orkney Islands, the Isle Of Man, the Isle Of White & the Channel Islands! Basically there's not many places in the UK that Sully hasn't set foot. Renowned as an act capable of performing in any room and to any audience, Sully has also built up a reputation as one of the most reliable and quick witted comperes on the circuit.
"a wicked sense of humour" BBC
"Sully O'Sullivan was amazing." NME
"engaging" The Scotsman
 "a blast of hilarity" Manchester Evening News
One of the most versatile acts on the circuit, El Baldiniho's brand of magic comedy and spoof mind-reading always hits the spot – whether at professional comedy clubs, cabaret nights, theatre shows, student nights, family friendly festivals or events for children and wowing the audiences of Britain's Got Talent. 
"Headline quality act" Funhouse Comedy.
"A genuinely funny act" House of Stand-Up.
"He charms us all with his terrible magic and puns" Camp Bestival Review.
About reserving seats on the TicketSource system
Please click on the "Reserve Seats" button below
This will take you to this event's page at the TicketSource site where you will be able to see which seats are available to then reserve the one(s) you prefer.