Out of this World by David Bent
The exhibition runs from 30th June to 29th August 2021. Opening times are 11-4pm Wednesdays through Sundays. Closed Mondays and Tuesdays.
We are delighted to be hosting this new exhibition of David Bent's art of flight collection inspired by the Red Arrows. This is the first time that these iconic works will be displayed together at the Goods Shed Tetbury.
Andrew Morton of the Red Arrows has written:
"Leading modern aviation artist David Bent was first invited to collaborate as Artist in Residence with the Red Arrows in 2006. This remains a positive and enduring goodwill relationship and David is the artist most closely associated with the team. His work is exhibited on the walls of the team's Lincolnshire home base of RAF Scampton, including in the crew briefing room.

With wonderful use of colour, expert detail and creativity, his work perfectly showcases both the excitement of flight and its inherent beauty. David's art reflects the precision and engineering excellence of the Royal Air Force Aerobatic Team. In addition, he captures the imagination of those who see and are inspired by his pieces – just as the Red Arrows do with every performance and display."
David Bent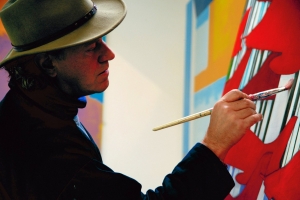 Awarded Honorary Companionship  of the Royal Aeronautical Society, David is credited with leading a new movement in modern aviation art 
Recent Exhibitions include the National Memorial Arboretum, St George's Bristol, Royal Air Force Museum, Swindon Museum & Art Gallery and Russell Cotes Museum & Art Gallery.
20%  of sales from this Exhibition of David's work will go directly to benefit the work of Tetbury Goods Shed.
There will also be a number of opportunities to meet the artist.
See more of David's work at his website, www.davidbentstudio.com.
Warning: There are occasions when the main hall is closed for a performance or private event. In order to avoid any disappointment we recommend you check availability, especially if travelling any distance. Thank you