Starting at:  11am - Coffee, Cake and Persephone Books: a laid back chat with the publisher with refreshments on us.   1pm - Sally Bayley: The Green Lady - teachers, children, biography, fiction and history.  3pm - Barbara Burman: The Point of the Needle - Why Sewing Matters.  5pm - Tom Parfitt and Rebecca Lowe - Modern Odysseys in an Age of War.  7pm - Simon McBurney - Drive your Plow Over the Bones of the Dead.
.
Coffee, Cake and Persephone Books.  'The nearest thing British publishing has to a cult' The Observer.  A chance to have a chat with Persephone Books' Francesca Beauman. Persephone Books has been reprinting neglected fiction and non-fiction, mostly by women writers and mostly mid-twentieth century, since 1998. The original concept was to publish a handful of 'lost' or out-of-print books every year, most of them inter-war novels by women. The name Persephone was chosen as a symbol of female creativity, as well as of new beginnings (the daughter of Zeus is associated with spring).
All 145 of their books are intelligent, thought-provoking and beautifully written, chosen to appeal to busy people wanting titles that are neither too literary nor too commercial.
1pm. Sally Bayley: The Green Lady
"We eat stories as cows eat fodder." 
Sally Bayley's 'The Green Lady' is a masterpiece of creative writing. Blending fiction, history, and biography, she brilliantly explores the relationships between children and their teachers.
While the book's starting point is the inspiration of her female teachers, Bayley's story is framed both by her maternal ancestors, and other independent women (including educational suffragist Mary Neal, actress Margaret Rutherford, and poet Stevie Smith) - a common thread being how social convention and a lack of space (the 'room of one's own'), combine to inhibit creativity.
Sally is a Lecturer in English at Hertford College, Oxford, and will be in conversation with novelist and critic Alice Jolly. The Green Lady is a stand alone novel, but can also be seen as the third in a biographical series.
Barbara Burman: The Point of the Needle - Why Sewing Matters  Tens of millions of people sew for necessity or pleasure every day, yet the craft is surprisingly under-appreciated. This book argues for sewing's place in our lives, celebrating not only sewing's recent resurgence but sewists' creativity, well-being, and community.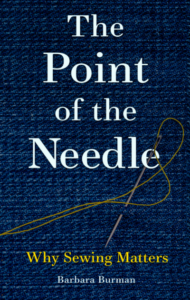 Barbara Burman chronicles the voices of people who sew today, by hand or machine, to explore what they sew, what motivates them, what they value, and why they mend. Inevitably, this leads to revealing insights into sewing's more intimate stories.  In our age of superfast fashion with its environmental and social injustices, this eloquent book makes a passionate case for identity, diversity, resilience, and memory—what people create for themselves as they stitch and make.
Barbara is a writer and former academic at both the University of Southampton and the University of the Arts, London. She has written extensively about women, dressmaking, sewing and the cultures of consumption.
Barbara will be in conversation with novelist and seamstress Sarah Steele.
Tom Parfitt and Rebecca Lowe: Modern Odysseys in an Age of War.   Tom and Rebecca are writers who both made extraordinary and dangerous journeys. Scarred by his experiences as a journalist, especially the Beslan school siege, Tom undertook a thousand-mile walk in search of personal peace across Georgia, Chechnya and Dagestan, from the Black to the Caspian Seas.
Rebecca cycled some 7000 miles across Europe and the Middle East to Tehran. Hers was an odyssey through landscapes and history that captured her heart, as well as a deeply challenging cycle across mountains, deserts and repressive police states. Plagued by punctures and battling temperatures ranging from -6 to 48C, she was rescued frequently by farmers and refugees, villagers and urbanites alike, and relied almost entirely on the kindness and hospitality of locals.
Tom and Rebecca reflect on the wisdom of their journeys, and what they learned.
An evening with Simon McBurney – Drive your Plow Over the Bones of the Dead:
Simon is an actor, writer, director and co-founder of Complicité, one of the most original and inventive theatre companies in the world. Their acclaimed production of Drive Your Plow Over the Bones of the Dead, taken from the novel by Nobel winning Polish writer Olga Tokarczuk, is currently touring Europe.
This is a rare chance to hear Simon talking about his work – his deeply researched and highly collaborative approach brings books to life, giving their words extra nuance, life and meaning.
Ticket holders will be able to buy a copy of Drive Your Plow for a one off price of £6 in advance of the Festival (in our shops or online using the discount code MCBURNEY).
Saturday Pass - Special Offer
Save 10% when you book seats for all Saturday Events
Discount applied automatically at Checkout
Weekend Pass - Special Offer
Save 20% when you book seats for all Events
Discount applied automatically at Checkout
Tetbury Book Festival Sunday 17th September
Starting at:  11am - Nature's Calendar with coffee and cake.  A close up look at nature through the 72 Japanese microseasons with refreshments on us.  1pm - Claire Ratinon: Unearthed - On race, roots and how the soil taught me to belong.  3pm We have poets!  Four of the best writers (Martha Sprackland, Joey Connelly, Susannah Dickey and Kandace Siobhan Walker) read and discuss their work. 5pm - Joanna Quinn: The Whalebone Theatre - we explore the brilliant inter-war novel. 7pm - Big Book Quiz:  An evening of booky fun, raising money for charity and prizes for everyone
Plus at 2pm :  special Workshop run by acclaimed graphic novelist Joff Winterhart - Drawing your Story (to be held at The Market Hall in the centre of Tetbury Town - parking available nearby in The Chippings or West Street)
Bonus Event  with Helen Rebanks - Sunday 24th September:  The Farmer's Wife: My Life in Days
is a beautifully illustrated, honest and intimate meditation on the power of domestic life. Helen is many things as well as a wife: businesswoman, teacher, conservationist, working mother and cook. She lives with her family in the Lake District and has been cooking and baking for more than 30 years. Her love and enthusiasm for food and farming is completely infectious, and her recipes are delicious.
Helen will be discussing her engrossing and tenacious account both of the running a home, and of the tightly knit family team which has made their farm globally important with its innovations and drive towards sustainability.