Q. What connects the river Seine, a Scottish loch and the seas around South Africa?
A. Tetbury Goods Shed's talks series. Our regular Shed Talks on the last Wednesday of every month cover all manner of topics from the worlds of art, science and society.
Listen to a physicist and food scientist describe his studies of penguins in South Africa (don't worry, it has nothing to do with eating them!).
Learn about the fascination with the science of colours that inspired one of the world's most-reproduced paintings, Seurat's literally dotty A Sunday Afternoon on the Island of La Grande Jatte.
And marvel at the awesome power of wishful thinking, which saw even some senior scientists sacrifice their careers rather than admit that Loch Ness almost certainly doesn't contain a colony of prehistoric marine survivors from the Jurassic era.
All these topics are in the line-up for the first three Shed Talks of 2022. If some of them look familiar, it's because we've had to reschedule them from last year due to Covid. But we are as confident as we can be that there shouldn't be further alterations.
The Shed Talks start at 6pm or 7.30pm on the last Wednesday of each month (doors open at 5.30pm or 7pm). Admission is £8 per talk – bookable in advance or pay at the door. Our speakers are always delighted to take questions from the audience after their presentation, and the events usually last around 90 minutes.
Coming up
Wednesday 26 January | 7:30 pm
A Physicist amongst the Penguins, with Professor Peter Barham
Professor Barham's knowledge of polymer physics has led him down unexpected pathways, including a collaboration with chef Heston Blumenthal. Twenty years ago, his involvement in a project to develop better rubber flipper bands for marking penguins evolved into one of the world's longest-running penguin monitoring and research projects on any species. His talk brings alive the science and humanity driving efforts to save these iconic seabirds from the threat of extinction.
---
23 February | 6pm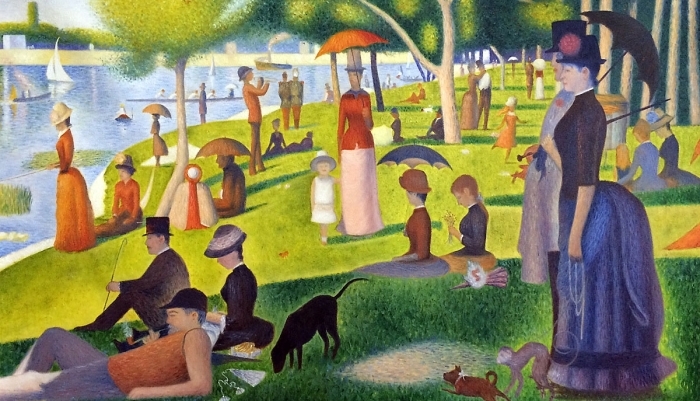 A Closer Look at 'Sunday afternoon on the island of The Grande Jatte', with Fiona James
In the 1880s, French painting literally went 'dotty' with the invention by Georges Seurat of pointillism. The young artist was fascinated by the then-new science of colour mixing. He used a limited palette of coloured dots to create his richly-hued masterpiece; taking two years and (by some estimates) two million dots to complete it.
Art historian Fiona James's previous Shed Talks have delighted her audiences. Given the huge popularity of 'Sunday afternoon' – not to mention the outrage it caused among the art establishment of the time – this one should definitely be in your diary.
---
23 March | 7:30 pm – 9:00 pm
A Monstrous Commotion – the mysteries of Loch Ness, with Gareth Williams
Sir Peter Scott, the internationally-renowned naturalist, was convinced that the Monster existed. So were senior scientists at London's Natural History Museum and Chicago University; they lost their jobs because they refused to renounce their belief in the creature.
This talk by Gareth Williams, Emeritus Professor and former Dean of Medicine at the University of Bristol, is based on his book of the same name, described as "a beautifully crafted detective story with a strong cast of heroes and villains, plenty of twists and an unexpected ending."
Join us for a wholly original look at what really happened in Loch Ness.
Don't miss out on news of further Shed Talks and other events at the Goods Shed: join our mailing list: