The countdown is on to our FREE festival of music, entertainment and family fun!
[wpcdt-countdown id="42269″]
Whatever else you've got planned for Sunday 5 September, give yourself a generous dollop of time to come on down to our first "Off the Rails" free festival.
There'll be live music on the outdoor platform from the likes of Holder & Smith, Folk On and the Big R Big Band. Around and about the outside of the Shed there'll be all kinds of impromptu entertainment for grown ups and children alike, with magic and storytelling as well as buskers and naturally a Beer Tent. There'll be craft stalls inside the Shed itself, and of course the Whistle Stop café will be doing take-away meals, hot and cold drinks and scrumptious pastries all day.
Off the Rails is absolutely free. Just come on down to enjoy the fun!
Bands and Music
Holder and Smith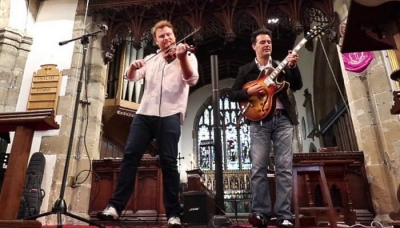 Firecracker fiddle and guitar duo with almost any genre at their disposal but with Gypsy Jazz underpinning their unique award winning sound. Jazz, Classical and Contemporary with violin and guitar. Unforgettable.
Folk On
Folk On, the finest comedy folk band to ever come out of the village of Little Dribblepatch … wherever that may be … write and play folk songs of unity and community, of solving conflicts and unyielding happiness. They also perform occasional songs about hopeless love lives, dead horses or Morris dancers.
"Folk On have made a niche genre accessible to a much younger audience…an experience not to be missed" – Greenbelt Festival Press
The Big R Band
A 16-piece big band from Bristol, the Big R Big Band are guaranteed to get you dancing. Dashing, debonair, dandy and dapper, the classic swing tunes of the 30's and 40's are looking, and sounding, pretty damn good. The fabulous Jiving Jimmy will be along with his swing dancers to liven things up.
Dryadic
The captivating rhythms of this collective of top notch musicians traverse an acoustic spectrum with a British/European folk core and smatterings of roots, jazz, gypsy and pop at the edges. Dryadic's melodies bring the work of singer & songwriter Zora to life with harmonies and hooks, underpinning candid, heartfelt lyrics that ride on a silky wave of acoustic guitars, strings, pianos and acoustic bass.
Entertainers
Magic Timmy
Delights for younger and older children, mixing songs, magic tricks and puppetry with a dazzling unicycling and juggling.
John Row, Storyteller
A really good story is a rarity in our 'content'-filled world but veteran storyteller John Row John skilfully casts his spell on old and young alike with tales like 'Grandfather All Know', 'Mossycoat', 'Kate Crackernuts' and 'The Golden Ram' as well as humorous children's stories like 'Lazy Jack' and 'The Old Woman and the Pig'. Find him in the storytelling tent near the play area.
Plus
Buskers
Including Alan Brinley Shaw on classical guitar and Becky Darrow, hula hooping, face painting and colouring tables.
Craft Stalls
Local and regional crafts on sale inside the main hall from 11am to 4pm.
Food and Drink
Beer tent outside the Railway Carriage. Take-away hot food and hot and cold drinks and pastries on sale at the Whistle Stop Cafe. (Photo by Wil Stewart on Unsplash)
How to find us
If you are unfamiliar with Tetbury follow the signs from the town centre to the free long stay car park or put GL8 8EY into your satnav, which will bring you to the Royal Oak pub. The event and the car park are through the open gateway next to the pub
Featured image (top) courtesy of Chester Zoo (Creative Commons Licence)