Individual Tickets £8 each.  Family Tickets £28 (admits 4 to include at least one responsible adult) Whistle Stop Cafe Open. Doors open at 1.30pm
Suitable for ages 3-12 years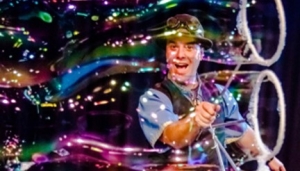 Join Mr Bubbles with his extraordinary soap bubbles in all shapes and sizes! Enjoy bouncy bubbles, bubbles inside bubbles, smoke bubbles, square bubbles, giant bubbles and even fire bubbles!
The Bubble Show is a unique blend of magic, storytelling and bubble art!
Actor, storyteller and Guinness World Record holder The Highland Joker is one of the top bubble artists in the world and brings you an interactive, children's favourite, international award-winning bubble extravaganza!
About reserving seats on the TicketSource system
Please Note: This show will be an all seated performance that is not socially distanced, however we have upgraded our ticketing arrangements to allow you to reserve specific seats.
Please click on the "Reserve Seats" button below
This will take you to this event's page at the TicketSource site where you will be able to see which seats are available to then reserve the one(s) you prefer.
Individual Seat – £8.00 Family Ticket £28 (to include one responsible adult)
(Booking fee applies)
Suitable for ages 3-12 years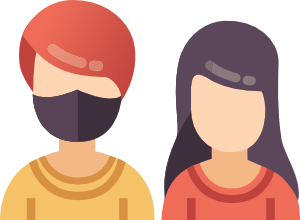 While we are grateful that we can begin to operate in a more normal way, we are mindful that throughout the pandemic we have said that we will always put the wellbeing of our community first. We will continue to do so and we have decided, therefore, that for the time being we should keep some distancing practices in place.
In line with Government regulations introduced on the 10th December 2021 we ask that you continue to wear a face covering (unless exempt) when visiting the Goods Shed – this can be removed for the purposes of eating and drinking only – and to be conscious of social distancing in general. This will be harder for us financially but we think it is the right thing to do. We are open (performances, café and for other groups) as we have been whenever possible in this challenging period. We hope you understand, and that we can relax more fully in a couple of months.
Your support of us throughout this period has been humbling and we will do all we can to make your visits to the Goods Shed and café both comfortable and exciting.