Tetbury Window Wanderland 2022
Tetbury Goods Shed is sending out a huge thank you to everyone who supported this new community venture, whether as a window maker, a wanderer or an enabler. We had 71 decorators and no two windows alike, funny, sweet, colourful or uplifting, much needed in these dark days. Many spectators certainly discovered new parts of Tetbury Lots of families and groups got out and about with cameras, enjoying the open air exhibition.  The Tetbury Dolphins  Running Club covered many miles trying to find all the windows.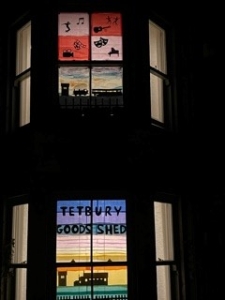 Tetbury's Feoffees lent the windows in the Market House, some money for materials and special lighting, complete with a lighter up. It was a great opportunity for Sir William Romney's School to be able to join in and gave a lovely centre to the event. Tetbury Lions got involved with generous  financial support. Many community organisations contributed displays too. Upton Mill and Kingsley House, Tetbury Guides, the Youth Club, the Friendship Cafe, Tetbury Library, the Monday Club, the schools, the Town Council, shops in town.  The success of these events depends on the strength of a community. Tetbury's is definitely looking strong and the results were spectacular.
Christine Berry and Tetbury Goods Shed Arts Centre