A beautiful selection of gifts and treats  from local artisans
Come along to our two day Fair and find your perfect Christmas gifts.  Choose from jewellery, local pottery, re-imagined items created from all manner of sources, books, prints, glass art and much much more.
The Whistle Stop Café will also be open, offering seasonal and warming refreshments.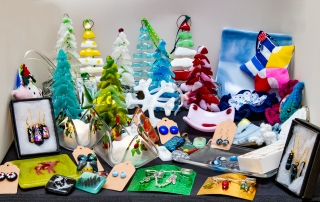 Liz Dart Stained Glass
Locally-made hand painted original stained glass designs. Traditional hand painted and fired stained glass gifts and cards for all occasions including hangings and panels. lizdartstainedglass.com
Hookhouse Pottery.
Based just outside Tetbury, Christopher White produces creative yet useful pieces designed to enhance your day, whether it be a tea cup, a pot to arrange in the garden or a simply a stunning vase
Mary Rose Ceramics
Mary Rose makes ceramic art in her Forest of Dean studio. Many people will say it's "Alice in Wonderland" pottery but to Mary Rose it's just pottery, decorated with her bright colours and with little three dimensional attachments to the handles or rims.
Nat Morley, artist
Nat's work reflects her passionate interest in the natural world, depicting creatures with a bit of 'attitude' aiming to create bold, lively images.
It is a celebration of her love for wildlife; capturing a feeling of movement, vitality and humour in pictures. Nat specialises in relief printmaking and she also loves painting in oils on large canvasses and has done many commissions of still life and portraits.  natmorley.co.uk
Riant Soleil Jewellery
Handmade Copper and Silver jewellery using a selection of Swarovski crystal and or semi previous stones together with wire and sheet metal to form individual pieces.
Wee Picture Press
Offering a selection of original paintings, prints and handmade items
College Green Soaps
A range of natural soaps that are full of skin-loving oils and butters and infused with pure essential oils with absolutely no synthetics, artificial colours, or harsh detergents. All the soaps are palm oil free too. Each soap is cured for a minimum of four weeks to ensure a beautifully mild but long lasting bar of pure soap, with a creamy lather.  www.naturalsoap.shop
Patricia Chicharro
Painting on silk using the technique of Batik.
Offering a selection of original works of art and limited edition prints.
Flora and Wick Candles
With a passion for all things eco friendly and ethical yet never compromising on looks.  Flora and Wick source only the finest natural ingredients and the highest grade scents, making candles a luxury that won't cost the earth.
Sally Brooks – Raku Ceramics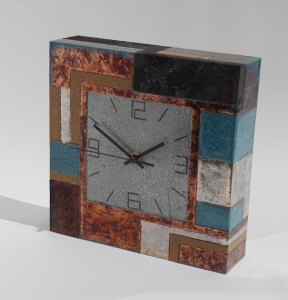 Offering a unique range of Raku fired ceramics, including clocks, vases, and sculptures.
Rima Jones Artist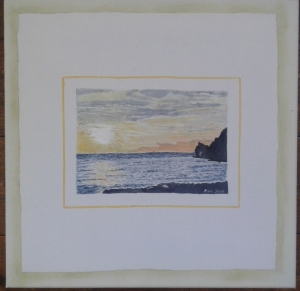 Watercolour and acrylic paintings, print editions and greeting cards.  Traditional views of Cotswolds, Worcestershire and south west and abstracted subjects themed around landscape, garden and coastal subjects.
Exhibiting in galleries and shows over a twenty year period after working as a graphic designer and illustrator
Holland Park Press
Holland Park Press, founded in 2009, is a privately-owned independent company publishing literary fiction: novels, novellas, short stories; and poetry. The company is run by brother and sister team Arnold and Bernadette Jansen op de Haar, who publish an author not just a book. Holland Park Press specialises in finding new literary talent by accepting unsolicited manuscripts from authors all year round and by running competitions. It has been successful in giving older authors a chance to make their debut and in raising the profile of Dutch authors in translation.
Totally Cotswold Knitwear
Producers of 100% pure pedigree Cotswold wool yarns, as well as items made using this local and beautiful wool.
Bob the Framer
Creating and recreating useful and individual items for your home. Old Boxes become works of art, Oil cans, tins, and even old "spong" food mincers are upcycled to become outstanding table lamps and more. No two items ever the same
Lorna Rankin Artist
Watercolours and acrylic paintings, print editions and greeting cards.
Traditional views of the Cotswolds, Worcestershire and the South West together with abstracted subjects themed around landscapes, gardens and coastal subjects
Stephen Nicholls and Belinda Gilbert – Jewellers
Jewellery collections and individual pieces made in gold, platinum and silver.
Designs combine shape, form and texture embellished with diamonds, precious stones and pearls.
Commissions created with style and individuality.  Remodelling, repairs and renovation work also undertaken.
Clare Walsh
Textile Designer
Inspired by the Cotswold countryside, leaves, herbs and plants.
Using Indian Blocks, printing on to linen and cotton to make cushions bags and garments.
www.clarewalshdesign.co.uk
Tara Jane Ceramics
Ceramic Artist and member of the Cotswold Craftsmen.  Setting antique lace in porcelain clay to create delicate bowls, vases. tea lights lanterns and coasters – using a beautiful turquoise blue underglaze to bring out the finer details.
Will also be bringing along a range of functional garden sculptures – large and small bird baths as well as bee baths on brass rods in various shades of meadow green.   www.tarajaneceramics.com
Kathy Hammond Fused Glass
Fused glass Christmas Trees and Decorations; Jewellery – pendants, ear rings and brooches; variety of glass dishes and candle holders.
Artworks
Jackie Sapp and Hazel Cudmore are two local artists working in different media. Jackie paints vibrant watercolours, mainly floral in nature although sometimes she can be inspired by the abstract. Hazel works mainly in acrylic and watercolours and draws her inspiration from nature. Both are members of the Tetbury Art Society.
Manuka Direct
Genuine Manuka honey from New Zealand – described by some as "liquid gold"
Every batch of Manuka Direct Honey is laboratory tested and certified.  This rare and wonderful honey is brought to you from New Zealand, where the native Manuka plant (Leptospermum scoparium) grows. It is produced by honey bees who pollinate the Manuka bush, which is also part of the tea tree family.
The honey is monofloral (meaning the bees collect the nectar from only one species of flower) and the manuka plant blossoms for only 2-6 weeks a year which makes it rare and difficult to produce.
It can be taken raw from the spoon, in smoothies and is excellent with lemon and ginger in hot water, it is delicious and can of course be eaten as you would any other honey, on porridge or toast.
Cotswold Wood Company
The Cotswold Wood Company produces hand made household items from reclaimed hardwoods.  Creating items such as cheeseboards, tea light holders, wine racks, clocks and much more.  They aim to be as environmentally friendly and ethical as possible without comprising on quality.
The Seated Queen
A Wiltshire based beauty brand focused on evening skincare offering a modern version of a cold cream which is am all I one cleanser, face mask and makeup remover. The product uses organic cold pressed essential oils and aromatherapy techniques to help de stress and relax. As a natural vegan certified brand the cream is free of mineral oil, lanolin, parabens and synthetic fragrances. The Seated Queen carries CPSA certification.
More stalls are being added on a regular basis so do check back in for latest information
If you would like to book a stall for this two-day event, please contact our Arts Centre Administrator on 01666 505496 or email [email protected]