On December 2nd 1889 Tetbury town was en fete. Most shops were closed for the day, there were flags, bunting, marching bands, processions and triumphal arches. And why? Because after years of campaigning Tetbury had at last got a station and this was the day the first steam train would leave the station on the new branch line to Kemble. Hundreds of people turned out to watch.
This December it will be 130 years since that first steam train left.  To celebrate that event, and the end of a Heritage Lottery project, Tetbury Goods Shed is holding a special evening event showcasing the history of the Branch line. The line was closed in April 1964 as a result of the Beeching cuts.
As part of the Heritage Lottery award a 15 minute film has been made with local people and their memories of using the line. These memories range from stories of the Maharajah of Jaipur using the line to bring his polo ponies down to play at Cirencester to the men who  worked on the train and the school children who used it.
Please note the film will be shown at approximately 6.45pm
As well as premiering the film there will be an exhibition by the History of Tetbury Society showing some of their archive material from across the years – including pictures of the first steam train and the festive arches put up in the town in 1889 to celebrate that first train.
It's also hoped to bring to life archive newspaper reports of that day in 1889 when the whole town turned out to see that first train leave ( the event was also celebrated with some really bad poetry!).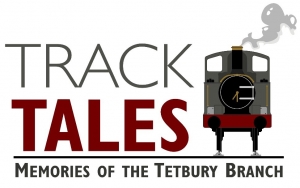 Tetbury Model Railway Society hope they will be able to exhibit their finished model of the station yard.
The Heritage Lottery grant has also enabled signs to be put up around the site showing where the station, engine shed, loading bay and signal box were sited – and created a Train Talk Trail for children.
The event is free, with a pay bar, and the doors will open at 6pm